Dance workshops for children and young people 2022
In three time-limited projects, approx. 10-15 children and young people from different age groups are to experience workshops on contemporary and traditional dances from Burkina Faso. Here, the workshops are considered taster sessions and are intended to encourage the children's desire for freedom of movement and a sense of a different culture. The dance style plays a special role here. The dance artists convey through the style of Afrocontemporary / traditional dance from Burkina Faso an insight into the movements of the traditional dances of the various ethnic groups in Burkina Faso ( such as Moussi, Dosso, Bobo). At the same time, the children and young people will be given the opportunity to try out new movements. Under the theme "Hand in Hand across Borders" we offer encounters and space for physical and musical creativity. This will be rhythmically accompanied by live music on the West African drum (Djembé), the musician will indicate the rhythm through the instrument and give impulses. In addition, the methodology and didactics of the individual groups will be adapted to the age of the children with various pedagogical exercises on the topic. The projects will be accompanied by another person who, together with the cooperation partner, will ensure linguistic coordination and accessibility. The workshops are to be documented by photo/video in consultation with the legal guardians, and the results can then be exhibited as a nice souvenir.
We are very happy about this year's cooperation and approval by Chance Tanz.
A total of three "dance splinters" are planned for the summer of 2022:
July 2022: In cooperation with the inclusion daycare "Hand in Hand" in Köpenick and the Wirtschaftskreis Müggelheim.
Dance workshops for the Kitakinder in the week of 04.07.-08.07.2022
Final event on 09.09. in the clubhouse in Müggelheim – you are cordially invited!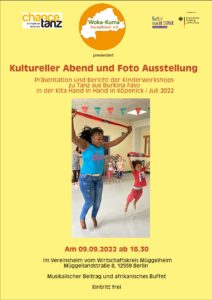 July 2022: In cooperation with the elementary school Campus Rütli in Neukölln and the after-school care center Nansenstraße ( Jugendwohnen im Kiez) we offer dance workshops as a vacation program
22.07.2022 from 14:00uhr on the schoolyard of the Campus: performance and gettogether
September 2022: In cooperation with the Afrika-Center in Schöneberg: Burkinabe dance for Kitakinder and interested children from the African diaspora families.
Cordial invitation !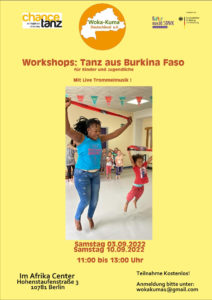 on 03.09. and on 10.09. from 11.00 -13.00Uhr in the
Afrika-Center, Hohenstaufenstr. 3, 10781 Berlin, Germany
With Alani Abdoussamadou